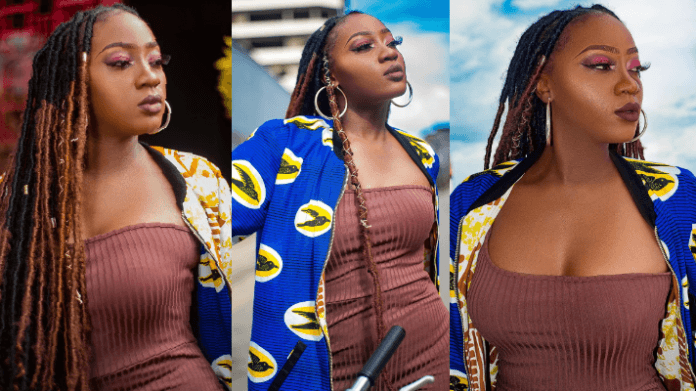 Cameroonian actress Nora Ndem has a message for all her followers and we are tapping into those wisewords. Nora who is curently out in Cameroon chilling with family and soaking in all the vitamins for her Melanin rich skin is concerned about the future of melanin. The dark skin beauty pageant turned actress is using her social influence to inspire black women and promote self love.
"Your Black Is Sufficient" Cameroonian Actress Nora Ndem
On a recent Instagram post, Nora shared a series of stunning images sitting on a bike. She is wearing an African print fashion bomber jacket over a tan cyclist suit almost the colour of her skin tone. It is no coincidence that she wore a minimalist outfit putting most of her skin tone in full view. Interestingly, the message, however, is not about the sexy cute outfit. It is not about what to wear on a hot summer day for a bike ride. Neither is the post about her sexy one shoulder Unitard cyclist suit a trend popular with the Kardashian. Due to the rise in skin bleaching amongst black men and women, Nora's message is a motivation to the black community. Here is what Nora Ndem wrote on Instagram!
My five sades of black. Let me tell y'all something about my body: It is unapologetically made of five shades of melanin.

She goes further to say, "It is my heritage and I embrace it soo much it glows."

Nora Ndem.

Nora is using her platform, voice and style to appeal to the consciences of those who don't feel beautiful in their own skin. This comes as a result of black people being brainwashed into thinking the black skin tone is not beautiful. Coincidentally, her message comes at a time were there is an ongoing feud between a Cameroonian skin bleaching entrepreneur and a vlogger. Oweing to an episode on the Delly TV show on Facebook where Delly Singah Philips points out the risk of skin bleaching and skin bleaching products.
African Print Bomber Jacket By Freddy Mayongo
While we totally endorse the message Queen Nora is vibrating to her fans, we can't help but love the simple and chic look. She is wearing a one-shoulder coffee brown Unitard cyclist suit by Boohoo. The bold and colourful reversible African print bomber jacket is by Freddy Mayongo from the Collection Noiratta.
Last but not the least, makeup is by @glamourmakeovers while photos are the work of @ultime_photography_